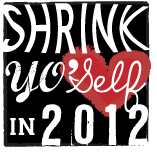 Today starts the beginning of a new year, it is also the beginning of the new challenge, Shrink Yo' Self in 2012 over at
shrinkingjeans
I am super excited about this challenge because I plan on doing just that!
I have reached a point where reality really has hit home. Its no surprise that I need to lose weight, but I really need to lose THAT much weight? I guess I do my usual "don't think about it/ put it out of your mind" coping mechanisim when it comes to anything that bothers me, instead of tackling it when it would have been a little easier, I've allowed my weight to get out of control. But its not only about the weight, its for my health. I have watched family go through so many things that have resulted from being overweight. Diabetes, heart disease, kidney failure and the list goes on and on. I don't want that to be me, but if I don't get things under control it very easily could be me.
In 2012 I am committing to get myself happy and healthy! Its going to be all about me!