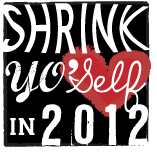 Sunday started the New Year as well as a new challenge. I have been struggling for some time to lose weight. I have realized that although I was participating in challenges and trying to lose weight... I really wasn't trying. I wanted to lose just didn't want to do the work to see the result. I was always gung ho at first full of motivation and pep. Then a few weeks in I would only do enough to say I was trying to lose weight. Just doing enough to get by. Reality slapped me in the face and I have realized how much I really do need to shed these pounds. I am tired of the me I have become and am finally really ready to make the changes to see the results I'm looking for.
On Sunday alongside this challange, I started the 17 Day Diet by Dr Mike Moreno. You should take a minute and look it up. I have seen numerous co-workers have great success with this diet. Its very structured, which is something that I really needed. Otherwise, I could always justify having something I knew I shouldn't.
I have not set a certain goal weight wise to lose by the end of the challenge. My goal is to stick with the 17 Day Diet, take each phase and make the most of it. And to just lose weight... just do what I need to do to continue to see the number on the scale drop and to feel better about myself and healthier.
With all that said... lets get on to the good stuff: 
Starting Weight : 214.5
Current Weight : 209.5
------------------------------
Loss this week -5